Cheeky: Utd's Ashley Young Admits to Diving, But Refuses to Apologize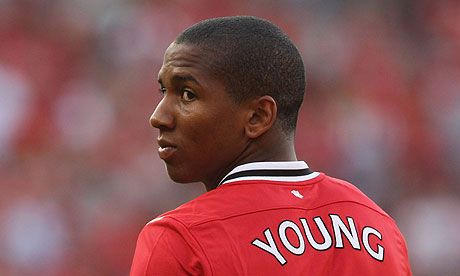 Manchester United winger Ashley Young has caused a stir – as he so often has in his career – regarding diving and simulation in the modern game.
The former Aston Villa and Watford man has been highly divisive since his Old Trafford switch, with many impartial commentators – and indeed many United faithful – lambasting the midfielder for his flailing on field antics.
Sir Alex Ferguson suggested before his retirement that he had 'had a word' with the player, and so too has David Moyes this season as his tendency to simulate has only gotten worse over the years.
Some of his flops are now famous for their audacity, but have often sparked outrage as they have ultimately won penalties.
Ashley Young has confirmed that he has spoken to both Moyes and Ferguson about diving, but that it is entirely not up to him to change his ways. Rather, he places more pressure on the referees, suggesting that they should concentrate on making the right decisions.
It [diving] has been talked about [with Moyes and Ferguson], yes," he said.
"It's been talked about obviously, by the previous manager and the current manager, but that's in house. I'm not going to comment on what's been said."
"But I think it's one to ask the referees – they are the ones who are giving free-kicks and penalties.
"I remember getting booked against Palace and then won a penalty (later in the game). Against Real Sociedad, it was another penalty that was given.
"Referees have tough decisions to make, they have a tough, tough time out there making decisions, but they have made the right decisions I think."
"I don't take notice of the headlines or the debates. That's obviously for the media to debate and people to have their say on it."
"Everyone is entitled to have their say on it, but for me, the referees have made decisions and that's it."
"Of course I understand what you're saying (about gaining a reputation) and everyone is going to have their say on it."
"But I've spoken to the previous manager and current manager, the referees are giving decisions and that is where I think it lies."
What do you think? Is Ashley Young perhaps being a tad cheeky here?
Comments are closed on this article.
Comments are closed on this article.